Shopping Cart
Your Cart is Empty
There was an error with PayPal
Click here to try again
Thank you for your business!
You should be receiving an order confirmation from Paypal shortly.
Exit Shopping Cart
All American Specialty Services
If you are in search of the best dryer vent installer or dryer vent cleaning in Orange Park FL call 904-422-0504 or visit www.allamericanspecialtyservices.com for the best in the industry. Locally owned and operated the professionals at All American Specialty Services have been providing the best quality work at the fairest prices in Orange Park year after year. We believe that providing top quality service for dryer vent installation, repair, or service is an important standard maintnance for your home or business. Dryer vents catch more homes on fire each year than chimneys. This is due to the low ignition temperature of the extremely flammable lint being exhausted through the system. They also can cause water damage and/or mold. If the vent is longer than 5ft chances are it will clog and become less efficient. Often this causes the moist air in the duct to become trapped and settle in pools of water. The systems are typically not water tight and this causes water leaks and mold. Through routine maintnance these hazards can be avoided and your utility bill will be lowered in the process. The harder your dryer works to push the air out the higher your utility bill. So if you are in need of a dryer vent installer or dryer vent cleaner in Orange Park FL and you believe as we do in getting the best service at the fairest prices call 904-422-0504 and let us exceed your expectations.
In Jacksonville FL it is not uncommon to find that the dryer vent in your home is damaged, installed using improper materials, or not venting to an outside air source. At All American Specialty Services we believe in providing the best quality professional dryer vent repair or installation at the fairest prices around. Whether your dryer vent terminates in the attic, in the wall, or just can't be found let our team of professionals work for you and use years of expertise to find an solve your dryer vent problems. From standard dryer vent cleaning to complete reroutes and repairs call 904-422-0504 and experience the difference. To see a complete list of our services and to see completed projects visit www.allamericanspecialtyservices.com and browse around. We are looking forward to being the first and last service company you call.
In Middleburg FL homeowners trust All American Specialty Services for their dryer vent cleaning. Because we believe in impeccable service without compromise. Because we treat every home as if it is our own. Because we treat each customer as if they are family. We just happen to be the best dryer vent cleaning company as well. Whether it is a delinting, a dryer vent repair, or a dryer vent installation All American Specialty Services has the professional experience to provide the on time no hassle service that you and your home deserve. A clogged dryer vent is hazardous in numerous ways. It is hazardous to your home because lint has a low ignition temperature and can start a fire. If not a fire it can collect water causing leaks and/or mold in your home. It is hazardous to your clothes because if they do not dry completely they can sour and we all know how hard it is to remove that sour smell from our clothes. It is also harmful to your wallet. As you run the dryer cycle after cycle your electricity or gas bill just keeps ticking up up up. So call the best service company in the area at 904-422-0504 to schedule your dryer vent cleaning and visit www.allamericanspecialtyservices.com to see our other services, projects we have completed, and what we believe.
Does your dryer take more than one cycle to dry clothes? It is most likely do to a clogged dryer vent aka dryer exhaust duct. Call 904-422-0504 for no hassle pricing and let the professionals at All American Specialty Services get the lint out. It will not only increase your dryer efficiency, it will also decrease your electric or gas bill. In Orange Park FL many dryer vents exhaust vertically through the roof. Over time the lint builds up on the walls of the vent reducing air flow and increasing the risk of fire! Don't become a statistic. Call the company that believes in providing exceptional service at the fairest price around. All American Specialty Services believes that to advertise $45 for dryer vent cleaning Just to get a phone call is dishonest and not a good business practice. Once you call the companies advertising that price they will upsell other services or change the price do to the length of your dryer vent. Call the All Americans who have the tools and expertise to provide the best dryer vent cleaning in the industry at the fairest, straight forward, and standard pricing. Visit www.allamericanspecialtyservices.com for more information on who we are and what we believe.
Everything we do, we believe in exceeding your expectations. We believe in pushing the envelope and goin above and beyond for all of our customers. We just happen to be the best dryer vent cleaning company around. As builders focus more on the convenience for homeowners than the practical function of their dryer vents aka dryer exhaust ducts, the vents become longer and more often than not, vertical. If this is the case in your home and you live in Jacksonville FL, Orange Park FL, Fleming Island FL, Middleburg FL, Ponte Vedra FL, or any of the surrounding areas the company you can trust to provide the very best dryer vent cleaning service is All American Specialty Services 904-422-0504. Your clothes dryer is not made to be vented more than a few feet so when it starts to take more than one cycle to dry your clothes it is an indicator that you are clogged and in need of a dryer vent cleaning. The ignition temperature of dryer lint is very low and a clogged vent is endangering your family and home. Please don't overlook this routine maintenance. Visit www.allamericanspecialtyservices.com for more information on dryer vent cleaning and then schedule your service with the company you can believe in. We look forward to exceeding your expectations!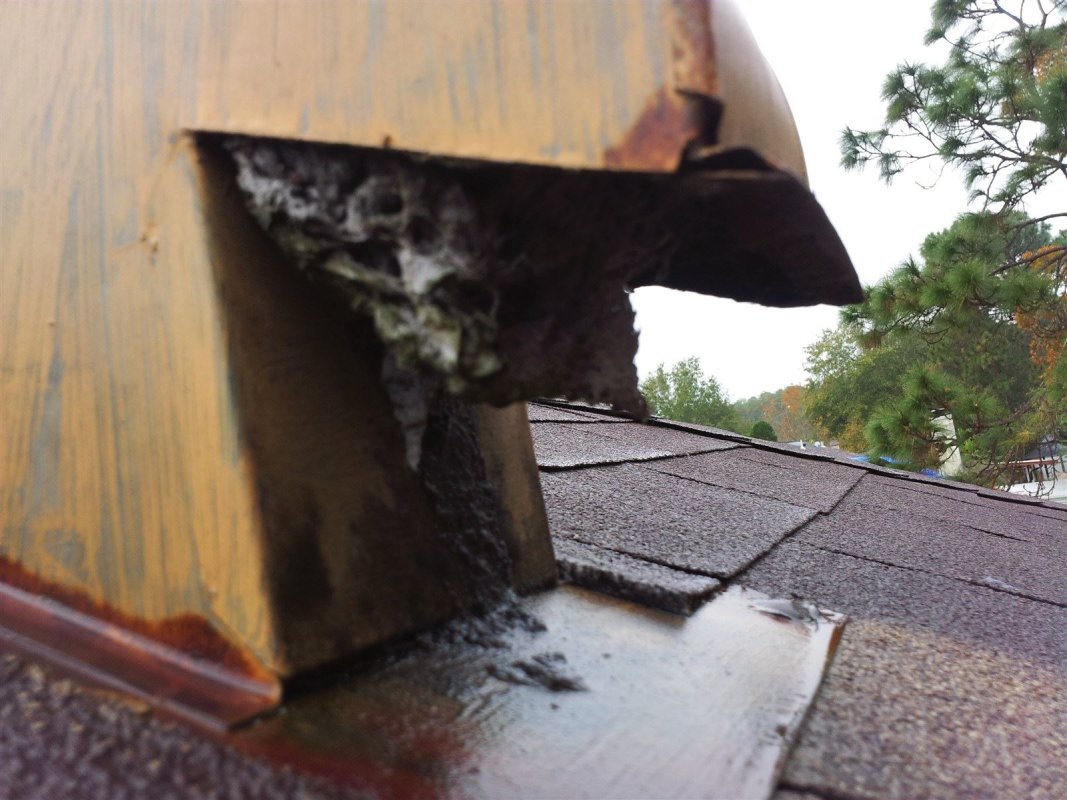 Dryer vents or dryer exhaust ducts are the pipe(s) that carry your dryers exhaust from the dryer to outside air.  Many dryer vents are less than five feet long, but more and more often builders are putting the laundry room toward the center of the house.  This creates the need for a longer vent to reach the outside air and in turn creates the necessity for a dryer vent cleaning.  As you dry your clothes, the lint trap in your dryer catches a portion of the lint, but more of it collects in the dryer vent.  Over time the build up of this flammable lint will cause your dryers efficiency to drop dramatically.  This will require longer dry times which increases your electricity consumption.  If the dryer gets too hot it will ignite the lint and cause a house fire.  Another possibility is that the lint clogged vent will trap the moist air inside the dryer exhaust duct and water can eventually pool and cause water leaks in your wall, ceiling, or floor.  In some cases the homeowner is unaware that its the dryer vent causing their dryer to be less efficient and spend hundreds of dollars to have a new dryer installed.  Only then do they realize the problem has not been solved and that it is the dryer vent that is the problem, not the dryer itself.  Dont be a victim of any of these circumstances.  Have your dryer exhaust duct cleaned annually by
All American Specialty Services
to keep your home in tip top shape! We service commercial and residential  dryer vents and look forward to exceeding your expectations
/